Thanks, Lionsgate! Wikia staff got a special treat in the mail today: a The Hunger Games: Mockingjay - Part 2 goodie bag filled with cool Hunger Games-related items. Bonus: it all came in a beautiful Mockingjay box that played Rue's four note song when the lid was taken off. CHILLS!
Here's a video of us opening the pack:
Now check out the items that came in the box below!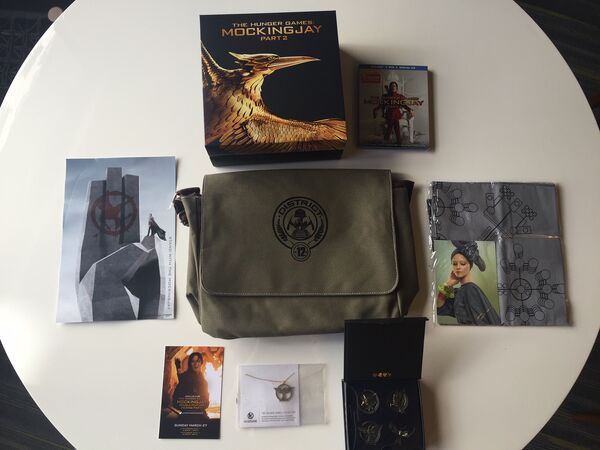 From the top, left to right: the Mockingjay-embossed box, Mockingjay Part 2 (on Blu-ray, DVD, and Digital HD), a limited-edition poster of Katniss Everdeen on top of a stone salute, a District 12 messenger bag, Effie Trinket's District 13 handkerchief, a Mockingjay necklace, and 4 distinctive Mockingjay pins from Bio-World.
The Hunger Games: Mockingjay - Part 2 is available on Blu-ray and DVD starting today. Stay tuned because a giveaway is coming your way!
---
---