Map
GlimmerandSparkle Hey does anyone know where I could find a good, not fanfiction map of the capitol? In Mockingjay when the are going through the streets it's really hard for me to visualize where that is and like, they all look exactly the same in my head. Thanks!
Oh, and also, If you scroll down on the Capitol's page, It's so funny because There is a couple and the guy looks fancy but normal and the girl has some giant turban-ish thing wrapped around her head. Haha!
AithneAithneYAY! (talk) 09:22, February 7, 2014 (UTC)
I actually think i would live in the Capitol. I mean, the descriptions of the food was AMAZING!!! also, i don't mind the fashion trends. i mean, cinna was from the capitol and he looked normal, right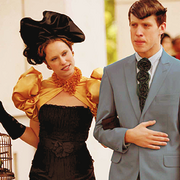 would you live in the Capitol?
Hey I just wanna know if any of you would want to live in the Capitol Personally I think the Capitol looks beautiful but the fashions are too bloody fore me i mean who would want to sew in gem in their skin! But tell me your opinion and why you can even say know if you want to -may the odds be in your favo.r
Location

The location is in Salt Lake City. It was on a map in the movie. The map is on the Panem page.
67.163.176.251 04:09, March 4, 2014 (UTC)
Lakes
What water features are there around the Capitol? Qwertyxp2000 the second (talk) 01:07, March 28, 2015 (UTC)