Finnick Odair was one of my favorite characters in The Hunger Games. His death, in my opinion, was unnecessary and cruelly unemphasized. It was a horribly shallow death to die for such an important character. Katniss was flushed with images, and then it was over. Finnick should have continued on instead of Cressida. Annie Cresta was too unstable to lead life without him, yet Finnick was so bent on going into combat. He had an important acceptance of characters, including Katniss, Peeta, and Boggs that only Cinna could reproduce. Snow would deserve to die soully on the fact that he sold Finnick as a prostitute, not to mention his iron grip of the Districts and conducting of the hunger games. All in all, I'm still yelling at Suzanne Collins for Finnick's death.64.81.114.186 02:03, January 23, 2011 (UTC)Anonymousity
64.81.114.186? ? Well, if it wasn't for Suzanne Collins, then none of this amazing amazingness could of happened, so dont yell at her!? AlaaddinDaley (talk) 05:14, November 26, 2012 (UTC) ?
Alex Pettyfer for Finnick
I've always pictured him as Finnick. He's around his age, looks like his description, and could pull of the acting.
PEOPLE LISTEN UP!!!!!!! (MAY BE SPOILERS)
WHY is everybody talking about actors on this page? The real (or imaginary) Finnick was much more amazing then any of them!!! I loved that he got to be happy with Annie for a while but even if he had lived I don't think it would have worked out.I am so mad as Pres. Snow for 'renting' out his body to sick capitol mutts. For that alone he should die slowly and painfully. I am also mad at Suzanne Collins because:
1) His death was really unneccary! I mean , he could have just made it up with them, easy as pie!
2) She had Katniss drop the Holo onto Finnick, making fanfictions about him living that much harder to write.
Sorry, I just <3ed Finnick to death so his death made me pretty mad!
Amazingness is mine! lol:)
GlimmerandSparkle
16:43, April 1, 2012 (UTC)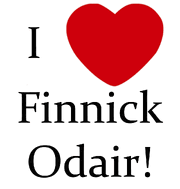 Bottom of the screen
Someone has to change Finnick to a Main Character at the bottom of the screen, not 'Other Tributes'. like seriously, Seneca Crane, main character!?
Amazingness is mine! lol:) GlimmerandSparkle 00:26, April 3, 2012 (UTC) YES! Omg in the movie they featured him WAYY more thanin he book! and i mean he was only mentioned maybe once..... if not he is't mentioned (in the 1st book)!
Ikr! i am seeing it again todaywooooh 108.49.101.112 14:58, April 6, 2012 (UTC)
Actors.
Concerning the new actors... im on the Finnick Odair page because he is my most liked character in the upcomming movies. Now there arent many fans on here that care about the book in a way that i do, if you have seen the "Percy Jackson and the Olympians" movie compared to the books, this was a total flop, i for one left the movies within 15 minutes of going into it, the only reason i actually watched it all the way through is because i was forced to, but that was a few months later. the whole idea of the movie was not good, Disney wanted to rush into it too fast in my opinion and therefore couldnt make more money with later movies mainly because of the actors. I was concerned that getting the new actors should be considered in alot more than their acting abilities. Finnick Odair for example HAS to be VERY big, just a BUFF dude and HAS TO BE TANNED and look very appealing in all ways possible as where the people that i am seeing advertised for the job, even on here are actually smaller and have less of a build than i do. people like the last 3 i see posted on the "talk" section of the page, a GLEE cast member with no build at all and young actors of all types, then youtuber's? where did that one come from haha. but on a serious note, Finnick Odair, Like all new characters comming along into this movie should be thought of how they are portrayed in the book mostly to help hold the attention of the audience, the people who i have seen that are wanting to try out the roll for him i believe they need at least another 50-80 pounds of muscle and alot more time in the sun, that whole spray tan stuff wont work, and at this point from the people i have seen i would much sooner pick a random guy from Jersey Shore, get the Situation in this Y'Know son? but if anyone of any importance to the movie reads this just throw it out there as food for thought, thanks for considering any of this if you do but for anyone who reads this, lets get a little conversation going on this and see if we can brainstorm some ideas, get some fan feed-back if you know what i mean.
and this is your wake-up call,
Concerned fan 22:45, April 9, 2012 (UTC)Concerned fanConcerned fan 22:45, April 9, 2012 (UTC)
While imagining how Finnick Odair looks like. I imagined Alex Pettyfer. The looks, the way he talk... Perfect! His hair... make it darker... it's bronze. His eyes sea green. His skin... slightly tanned.
I agree. Very perfect... 68.67.247.100 00:35, April 27, 2012 (UTC)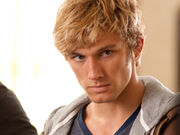 Finnick & Annie
I agree, Finnick's death was really unpredictable and heartwrenching. But it's Suzanne Collins' choice about the deaths, not her fans. Also, I would like to share with you this video I came across. http://www.youtube.com/watch?v=y4mrlCfOIcw (James Gaisford really should play Finnick! SuperStripe100 01:25, April 27, 2012 (UTC)
Finnick and Annie's love was awesome!!!! Finnick is great!!! Annie is great!!!! Baby Odair is.... well... a baby.
                                                                                         AnnieCresta-Odair20 21:44, June 5, 2012 (UTC)AnnieCresta-Odair20

FINNICK ODAIR CAST?
IMDB listed
Vampire Diaries
actor
Daniel Newman
as playing Finnick Odair, and now every hunger games site I'm on is all talking about it. I LOVE Alex Pettyfer and Chris Hemsworth, but I think Daniel looks Exactly like I imagined Finnick to be when I read the books and all the Finnick art looks exactly like Daniel. I feel bad all the press is bashing him since he's not very famous compared to Alex and the other hot guys, but on twitter Daniel takes time to write everyone back and he's so sweet. He just is Finnick to me. I hope it's true.
LisaMontgomery
06:08, May 13, 2012 (UTC)
Hunter Parish as Finnick
I think that Hunter Parish should be Finnick because he has the bronze golden hair and the eyes . He's also fit and athleteic . Search his name in Google Images and you'll be on my side too. Favoritegirl25 21:45, May 16, 2012 (UTC)
Sam Claflin is the only Finnick
I love the choice they made for Finnick.Sam Claflin is the best choice.There is 3 really great things about him:
1.He's brittish
2.He plays Finnick Odair
and
3.He looks great in the sugar cube scene
01:53, August 13, 2013 (UTC)01:53, August 13, 2013 (UTC)01:53, August 13, 2013 (UTC)01:53, August 13, 2013 (UTC)01:53, August 13, 2013 (UTC)01:53, August 13, 2013 (UTC)01:53, August 13, 2013 (UTC)01:53, August 13, 2013 (UTC)01:53, August 13, 2013 (UTC)01:53, August 13, 2013 (UTC)01:53, August 13, 2013 (UTC)01:53, August 13, 2013 (UTC)01:53, August 13, 2013 (UTC)01:53, August 13, 2013 (UTC)01:53, August 13, 2013 (UTC)01:53, August 13, 2013 (UTC)Anniecresta&finnickodair (talk) 01:53, August 13, 2013 (UTC)