Suzanne Collins is an American television writer and novelist, best known for writing The Hunger Games trilogy.
Career
Collins began her career in television, writing episodes and actively participating on the staff of shows like Clarissa Explains It All. She was also the head-writer of Clifford's Puppy Days, and co-writer of the Rankin/Bass Christmas special, Santa, Baby.
When Collins started working on a Kids' WB show, Generation O!, she met children's author James Proimos, who suggested that she should try her hand at writing children's books. And that's how she started. Her first book was Gregor The Overlander, which was followed by four more books in The Underland Chronicles.
The Hunger Games
In 2008, Collins wrote the young-adult dystopian novel The Hunger Games.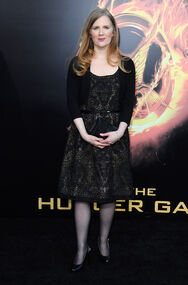 Collins claims that her early exposure to Greek mythology, especially the story of Theseus and the minotaur, planted seeds in her mind for the story. It wasn't until much later, when she was flipping between war coverage and reality T.V. programming, that Katniss Everdeen's story finally came to her. Not only this, but since her father was in the Vietnam War she also took those experiences and used them as inspiration for her book. In 2009, Collins released the sequel to The Hunger Games, Catching Fire. The final book in the trilogy, Mockingjay, was released in 2010.
In 2010 Time Magazine named Collins to the Time 100 list.[1]. In March 2012, Amazon.com announced that Collins had become the best-selling Kindle author of all time.[2] Amazon also revealed that Collins had written 29 of the 100 most highlighted passages in Kindle ebooks. On a separate Amazon list of recently highlighted passages, Collins had written 17 of the top 20.[3]
It should be noted that Collins was one of the credited screenwriters for The Hunger Games film. She was also one of the film's producers.
A prequel to The Hunger Games, The Ballad of Songbirds and Snakes, was released in May 2020. Collins gave an interview regarding the new title, stating that while she always had a sense of who the fourth victor mentioned in passing in The Hunger Games might be, she had evolved a lot since then. Regarding Coriolanus Snow, she stated that "he experiences one of the most out-of-control emotions, falling in love. It turns out to be a bad combination."[4]
Publications
Other books
Fire Proof: Shelby Woo #11 (1999)
When Charlie McButton Lost Power (2005)
When Charlie McButton Gained Power (2009)
External links
References