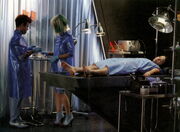 Every tribute in the Hunger Games was assigned a prep team that prepared them for their appearance in the Hunger Games and events prior to it. Each team beautified the tributes according to the Capitol's standards. The prep team worked on their tribute numerous times for different events, such as the chariot rides, interviews, the Games, the Victory Tour, and other important public appearances. The prep team usually worked on preparing the body of the tribute by removing body hair, bathing the tribute, working on their hair, adding makeup, and doing nails. Their jobs could change depending on what their head stylist thought, and the finishing touches and presentation of the tribute's outfit was done by the head stylist.
History
At the time of the 10th Hunger Games, there were no prep teams or stylists, as few people in either the districts or the Capitol cared to watch the Hunger Games. Tributes were simply thrown into the Capitol Arena in the same state and clothing they had been in when they were reaped. It is possible that things changed at some point not long after these Games, as the 10th Hunger Games introduced a number of renovations which would be carried over to future installments.[1]
Katniss Everdeen's prep team for the 74th and 75th Hunger Games consisted of Flavius, who did her hair, Venia, who was in charge of waxing and eyebrows, and Octavia, who did nails. The prep team was led by their head stylist, Cinna.
Shortly after the 75th Hunger Games, the stylists and prep teams of every tribute were ordered by President Coriolanus Snow to be killed, due to the 24 tributes finishing off the interviews by holding each other's hands in an act of rebellion. Portia and Peeta's prep team were executed on live TV while Peeta was watching.[2] Katniss' prep team was saved by the rebels and temporarily kept prisoner until Plutarch Heavensbee ordered them to be set free.[3] Katniss' prep team was the only prep team alive after the rebellion.[4]
Known prep teams
Katniss Everdeen's prep team for the 74th Hunger Games and 75th Hunger Games consisted of head stylist Cinna, as well as his assistants, Flavius, Venia, and Octavia.
Peeta Mellark's prep team was mentioned to have been executed alongside Portia in Mockingjay.
Johanna Mason's prep team was mentioned as lacking talent and doing the same stupid costume every year for 40 years, a tree, which Johanna hated so much that she stripped in front of Katniss and Peeta leaving just her slippers on.
All other prep teams were killed sometime after the Quarter Quell, and before the Capitol's surrender.
Gallery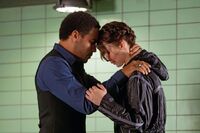 References
↑ Mockingjay, Chapter 13
↑ Mockingjay, Chapter 4
↑ Mockingjay, Chapter 26