Isabelle Fuhrman is a American actress who portrayed Clove, the female tribute from District 2, in The Hunger Games film.[1] She is the daughter of journalist Elina Fuhrman and Nick Fuhrman. Also, she is the sister of Madeline Fuhrman.
Career
Fuhrman had originally auditioned for the role of Katniss, but she was told that she was too young, as she was only 14. She was also told she was too old to portray Primrose Everdeen and got a callback asking if she wanted to audition for Clove instead. Many critics have praised her performance as Clove, identifying her as a breakout star.
Fuhrman began acting in 2006 and is best known for her role in the film Orphan, for which she received critical acclaim. She appears often in The Hunger Games: The Official Illustrated Movie Companion.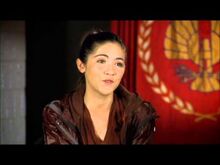 Fuhrman will next be seen co-starring with Will Smith and Jaden Smith in the film, After Earth. Fuhrman's role, however, didn't make the final cut except for a small snipet of her next to Jaden Smith in the beginning. It was announced on the 15th of May in 2012 she would be starring in the upcoming remake of 1977 horror classic, Suspiria. However, the movie got stuck in legal issues, preventing them from filming and producing the movie. She is in the film adaptation of Stephen King's novel, Cell, a science fiction / action movie, as Alice Maxwell. Fuhrman will be co-starring with Jessica Alba and Liana Liberato in the upcoming drama film Dear Eleanor, playing a character named Max.  
Fuhrman has also had experience on voice acting, she voiced Shoko in the hit Cartoon Network Series, Adventure Time, Shelly in Sammy's Adventure: The Secret Passage, and the upcoming video game, Hitman: Absolution as Victoria.  
External links
References