The unknown District 4 male was a victor of an unspecified edition of the Hunger Games.
Biography
He participated in an unspecified edition of the Hunger Games. Since he is around 20 to 30 years old age, he would've have won his Games around the same time as Cecelia and Enobaria did. He may have been mentored by Mags or another male victor for his own Games.
After his victory, he presumably mentored more tributes for future edition of the Games for District 4.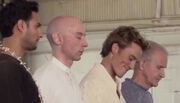 He was present at the Reaping of the 75th Hunger Games alongside Finnick Odair, Annie Cresta, Mags Flanagan, and two more unknown male victors from his district. It is unknown if he mentored Finnick and Mags for the 75th Hunger Games.
It is unknown how he died, but he presumably died in the Victors' Purge, as he was not present in the meeting among other victors.
Trivia