"The gentle lowing of cattle is the first thing a visitor to District 10 hears. This region raises strong, healthy livestock, which becomes the meat that helps us raise strong, healthy children of Panem."
―Description from The Hunger Games: Tribute Guide
District 10 is one of the thirteen districts of Panem. Its main industry is livestock, and it provides meat to the Capitol. Since they are in charge of livestock, it can be assumed that the majority of District 10 is open space and/or farmland. 
Known tributes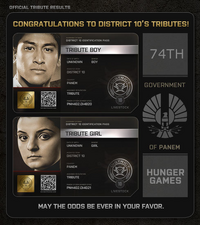 Dalton
Dalton, a refugee from District 10, made it on foot to District 13 a few years before Katniss Everdeen arrived. He also told Katniss the real motive behind District 13's kindness; due to a pox epidemic years prior, many of 13's natives were killed off, and most of the survivors were left infertile. Therefore, the refugees were welcomed as new breeding stock. Dalton presided over Finnick and Annie's wedding, since District 10's wedding ceremony is similar to District 4's. He isn't mentioned in the war or afterwards.
Trivia
It's unknown, but unlikely, that the District 10 victors were part of the rebel alliance to free Katniss from the arena, as they weren't mentioned as one of the districts that took part.
In the 74th and 75th Hunger Games, both female tributes from District 10 died during the Cornucopia bloodbath, while the male tributes survived a bit longer, but then later died from an unknown cause. This is the opposite of District 5.
District 10 was the 5th - 10th district to pry from Capitol rule.
Dalton is the only named person from District 10. 
In the 74th and 75th Hunger Games, District 10 was one of the two districts to have absolutely no named tributes. The other district was District 9. However, the District 10 male in the 74th Hunger Games was nicknamed "The Boy With The Bad Leg," as Katniss noticed a limp in his step. This makes the District the second least mentioned district next to District 9.
Both District 10 males' deaths were not shown in the film and they were not seen surviving.
District 10 is located close by or within Mexico, as seen in the map shown in Catching Fire.
According to the Capitol.PN, District 10 has a livestock count of 1 million with a population of 19,234, making it the tenth largest district, in terms of population.
According to the Capitol.PN, District 10 claims 291,963 in tesserae, making it the third most impoverished district.

If the population is 19,234 and they claim 291,963 tesserae, that would equal to 15.179 tesserae per person, making it the 11th richest District.