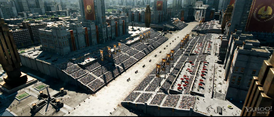 Before entering the Training Center for the first time, tributes for the Hunger Games are required to ride chariots in a procession through the Capitol. This event, known as the "Tribute Parade", was very important because it was a chance for the tributes to make an impression on the citizens of the Capitol, thus attracting potential sponsors. The drawing-in of sponsors is crucial to the tributes' survival in the arena. This was also the first time the Capitol audience would see the tributes in person, and it would give them an idea of what to expect from each district's competitors.
To show their approval, the audience would cheer for the tributes they liked, sometimes even throwing small objects in admiration (in her first parade, Katniss Everdeen caught a rose thrown by an audience member).[1] To make a good impression, most tributes would smile and wave and appear friendly, but other tactics could be employed: for the 75th Hunger Games, Katniss and Peeta were instructed to appear aloof and uncompromising, as if the entire event was beneath them; this also made quite an impression on the audience.
The chariots were typically decorated to reflect the traits of each district's industry, and it was required that the districts enter the procession in numerical order, starting with District 1 and finishing with District 12.
Chariot costumes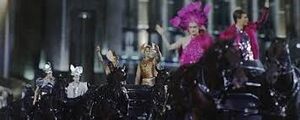 In addition to the chariots being decorated to reflect each district's industry, the tributes themselves were outfitted in costumes that performed the same task. These costumes were typically the first outfit that a tribute's stylist would design for them, and they could take innumerable forms, depending on the stylist's skill level, techniques, and what kind of image they wanted to project.
Note: in many cases, the chariot costumes were not specifically described in the novels or directly seen in the films. In such cases, the following descriptions have been drawn from various sources, including various online images and tie-in materials such as The Hunger Games Tribute Guide, and cited where possible.
The 50th Hunger Games
District 12 - Mining
The 74th Hunger Games
District 1 - Luxury
District 2 - Masonry
District 3 - Technology
District 4 - Fishing
District 5 - Power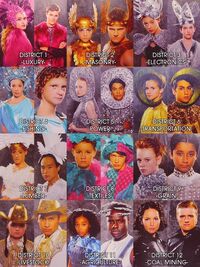 District 6 - Transportation
Film: The tributes were dressed in a costume that resembled a moon. They had a crescent moon-shaped head piece that curved around their face.
District 7 - Lumber
Book: Johanna Mason mentions in Catching Fire that tributes from District 7 had been dressed as trees for the past 40 years of Hunger Games,[14] so it can be assumed that these tributes wore some variation of that theme.
District 8 - Textiles
District 9 - Grain
Film: The tributes wore body suits with rows of silver and gold to represent fields of grain, and they wore silver half circles behind their head.
District 10 - Livestock
Film: The tributes wore gold and white cowboy-themed costumes.
District 11 - Agriculture
District 12 - Mining
Book: Katniss Everdeen and Peeta Mellark made an impression by wearing black unitards, paired with flaming capes and headdresses to give an impression of burning coal. This was how Katniss got her nickname, 'the Girl on Fire'.[3]
Film: The costumes were essentially the same as in the books, but did not include the headdresses or capes (flames simply streamed out from the back of the suits).
The 75th Hunger Games
In the 75th Hunger Games, some of the other stylists had taken note of Katniss and Peeta's entrance the previous year, and copied the idea of illuminating their district's tributes. The notable outfits worn were:
District 2 - Masonry
District 3 - Technology
District 4 - Fishing
Book: Finnick Odair was always admired for his beauty in the Capitol, and his stylist clearly wanted to make him appear as desirable and handsome as possible. He was draped in a golden fishnet strategically knotted at the groin, to avoid him appearing completely naked.[14]
Film: Finnick was shirtless and wore a short, kilt-like garment made of golden fish pelts, along with a pair of heavy boots. He also wore two necklaces: a shorter one made of what looked like seed pearls in a dark, bluish-green color, and the longer one with what looked like a cross-sectioned slice of a seashell on the end of a cord.
District 6 - Transportation
Film: The Morphlings wore dark and gothic clothing with light patterns to represent their addiction to morphling, as stated by Trish Summerville in the official movie companion.
District 7 - Lumber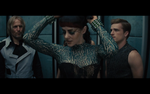 Book: Johanna Mason was dressed as a tree and wore a headdress made of leafy branches, though she removed the outfit after the chariot ride and wore only her green slippers as she rode up in the elevator with Katniss, Peeta, and Haymitch.[14]
Film: Johanna was still a tree, but instead of wearing a headdress, she wore hair extensions that were pulled into a bun behind her head. The outfit consisted of a green bodysuit patterned like tree bark, a leather corset, spiked bracelets, and stiletto-heeled shoes. Blight was dressed in a green bodysuit with a leather vest.
District 8 - Textiles
District 9 - Grain
Book: The tributes from District 9 were dressed as loaves of bread.[19]
Film: In the film, they are seen to be dressed in gold outfits that represent the golden fields of grain.
District 10 - Livestock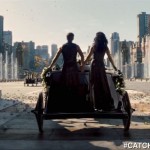 Film: The District 10 female is wearing a Greek goddess gown. It starts with a dark blue on the top and slowly turning lighter at the bottom, with a white cape and shoulder pads decorated with horsehair. The District 10 male could be seen wearing a toga with a harness adorned with horns.
District 11 - Agriculture
District 12 - Mining
Book: Peeta Mellark and Katniss Everdeen wore outfits with crowns similar to the crowns they received when they were crowned victors, except black and the outfits are described as looking like a glowing ember from inside a fireplace.[14]
Gallery
Although not officially revealed in the movie, in late 2016 many of the costumes were included in an auction.[20]
References