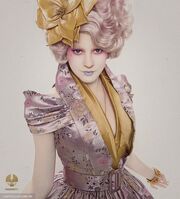 Capitol Couture is a website created to promote the The Hunger Games film. It went live on January 27, 2012.
Content
The lists in each category go from newest to oldest content available on the website.
Cover Stories
The 74th Hunger Games is #1!
Alexander McQueen: No one will call you an ugly duckling in this McQueen stunner… - Source: The Metropolitan Museum of Art.
Michel Berandi: Ride headlong into the black of midnight with these skintight pitch-colored biker suits. Accessorize with Mohawk or Raven Tress Helmet and horse hoof heels for total fashion domination - Source: BlackBook.
'THE HUNGER GAMES' hits the bulls-eye! An exhilarating action film with a heart… just as gripping and moving as the best-seller on which it's based!– Randy Myers, San Jose Mercury News
'THE HUNGER GAMES' delivers! Exciting and thought-provoking in a way few adventure dramas ever are. Anchored by a remarkable performance from Jennifer Lawrence and can't-look-away action!– Joe Neumaier, New York Daily News
Pulse-surgingly tense. 'THE HUNGER GAMES' is perhaps the essential science fiction film of our times. Whatever your age, it demands to be devoured.– Robbie Collins, The Telegraph (UK).
Iris Van Herpen: I went to District 7 and all I got was this lousy…kidding! The folks at CC would kill to get their hands on this maple masterpiece - Source: vintageeva.
Alexander McQueen: Harsh Capitol winter putting out your fashion fire? Warm up to this Alexander McQueen look that's sure to give your friends chills - Source: Vogue.
Mr Pearl: If you don't know who Mr. Pearl is then you aren't a true Capitol fashionista - Source: Corset Training.
Viktor and Rolf: This gorgeous piece conjures up images of a sunny day in District 4 - Source: Pinterest.
Heatherette: District 1 and District 12 finally meet in the fashion arena! - Source: bellasugar.
Laquan Smith: We absolutely cannot fathom how much gold had to be imported from D1 to make these mind-blowingly fantastic chainmail stockings - Source: eatprayfashion.
Profiles
Capitol Portraits
Capitol Couture has released many "Capitol Portraits" which show off anyone who is famous or well known in the Capitol. The tributes, Gale and President Snow all have white roses in their hands.
Capitol Look
Iris Van Herpen
Alexander McQueen
Mugler
Deryck Todd
Hayley Scanlan
Antonin Tron
Arjun Khanna
Stefan Orschel-Read
Michel Merandi
Mr. Pearl
Viktor & Rolf
Heatherette
Laquan Smith
Dana Lorenz
Dennis Diem
Rolf Buck
Malgorzata Dudek
Guides
Clean and Beautiful Nails
Effie's Enlightening Etiquette Guide
Nothing Says Party Like The Hunger Games: Your Complete Guide
Intel
Capitol Couture & tumblr Present: #LOOKYOURBESTNIGHT.
Men of the Capitol (Coming Soon)
An Exclusive Interview With Make-up Master/Beard Architect Ve Neill
Grooming is Next to Godliness
Ready for the Opening Ceremonies, Haymitch?
74th Hunger Games Tickets now on sale and set to outsell the last two Games combined!
The 74th Games Tickets on sale Wednesday
Love at First Games?
The 74th Hunger Games are approaching
Now Premiering: Issue 2
See Effie's Style in Action
If the Shoe Fits....Wear It To the City Circle!
Can We Get A Volunteer From the Audience
Citizen Activity
Sofia sparked our interest with these fiery accessories - Source: ohkatniss.
Diamonds are Glimmer's best friend. Pity whom or what she makers her enemy - Source: glimmercareertribute.
Silver never goes out of style. Meet Deonte - stud with the studded slip-ons! - Source: Deonteblue.com.
Can you put the pieces together? - Source: thatknucklehead.
We just couldn't look away from these three looks from Anna - Source: Jabberjays.com.
No one escapes the Capitol's gaze - Source: capitolprostitute.
A reflection of confidence - Source: acciomarch23rd.
An exclusive photoshoot with the Mayor of District 3 - Source: girlwhowasonfire.
What better way to see the capitol than by bullet train! Smooth, silent, 400mph bliss - Source: mynightmaresareaboutlosingyou.
One beard to rule them all - Source: ohkatniss.
Things are about to get messy - Source: fuckyeahthehungergames.
Never let your flame die - Source: hoedair.
Well wishes from the supremely talented Nici featuring Katniss bidding her stylist farewell - Source: actofmadness.
A classic poster for a timeless test of will - Source: fuckyeahthehungergames.
Make-up your Mind: Ve Neill Chooses This Week's Stylists.
District Style Challenge #4: Deck Yourself Out.
You think Seneca would have a fit if Katniss wore these to the Games? - Source: tinderbox210.
A hauntingly beautiful rapid-fire portrait of the girl on fire. - Source: mockingjay
March 23rd is almost here! Way to make Effie even more sugary sweet, Mistress Mockingjay - Source: mistressmockingjay.
No rhinestones here! Sparkle for Caesar Flickerman in this blinged out D1 interview ensemble - Source: jedishywalker.
We can't say this enough, we love love love reader takes on the beautiful Miss Trinket - Source: the-hangingtree.
'May the Odds Be Ever in Your Fashion?' Indeed - Source: icaughthejazz.
Emma poses an excellent question: Who would sponsor you? - Source: catnus.
District Style Challenge #3: Get Peeta Prepped.
District Style Challenge #2: Kiss and Make-up.
Style fo Miles: Announcing the First Three Stylists!
Amazing gold mockingjay pendants by D12 artist Chloe - Source: gallons of ink.
District Style Challenge - A word from Capitol Couture's Editors.
District Style Challenge #1: Put your Best Foot Forward.
Gorgeous dimensional nails forged by fire and coal - Source: Diaries of Jessica.
Seems like Katniss Everdeen has yet another sponsor on her side - Source: Spread your wings and fly away.
Effie Trinket looking pretty in pink! - Source: we're all stories in the end.
The one, the only Head Gamemaker Seneca Crane. Now in magenta! - Source: NICKART DESIGNS.
District Citizen John has received exclusive authorization to recreate Panem insignia. Looks great! - Source: * thatknucklehead.
Capitol Sanctioned, ay? We'll see what your District Peacekeepers have to say about that - Source: readymind.
Twelve and Twelve! - Source: PEETA AND CATO IN OUR PANTS.
Do you think Katniss deserves a perfect 12? At least one citizen thinks so - Source: Brush the Danger.
Do you have what it takes to be your district's next stylist?
External links