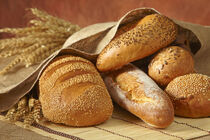 Bread
is a food made from various types of grain. It has been a staple for many cultures throughout history and plays a symbolic role in
The Hunger Games trilogy
.
Of course, bread is a type of food in real life, however, it has received a lot of significance in the trilogy.
District specialties
Each of the twelve districts of Panem has their own unique variety of bread. Each bread's shape, composition, and flavor is influenced by the district's industry and location. The districts whose breads are revealed in the narrative include:
Capitol specialties
Several varieties of bread are seen in the Capitol. In contrast to several of the poorer districts, whose bread is made from rough ration grain, Capitol bread is made from refined white flour. Different types of bread from the Capitol include:
Mellark bakery specialties
A number of unique breads were produced at the bakery run by Peeta Mellark and his family, some of which play key roles in the story.
Raisin-and-nut bread: This is the bread that Peeta burned on purpose to give to a starving Katniss, thus setting their relationship in motion.[9]
Cinnamon and dill: Katniss notices these scents lingering on Peeta, and surmises that they must be from the breads he had baked that day.[10]
Cheese buns: Apparently Katniss' favourite, as she was kept supplied with them by Peeta following the 74th Hunger Games and subsequent Victory Tour.[11]
Role of bread
The amount and type of bread that is given in the arena during Catching Fire serves as a countdown for a start of the rebellion. Bread seems so innocent, yet was used in communication between mentor and tribute for the start of a rebellion in the 75th Hunger Games.
While in District 13, Katniss' prep team is imprisoned for repeated infractions over bread (i.e. they took more than was allowed by their rations).[15]
The District 12 marriage tradition ("The Toasting") is a literal meeting of bread and fire, which serve symbolically for Peeta and Katniss in the novels.
References
Community content is available under
CC-BY-SA
unless otherwise noted.